Molex is diversifying its product portfolio with the launch of the MX60 series of contactless connectivity solutions.
These low-power, high-speed solid-state devices feature miniaturized mmWave RF transceivers and built-in antennas in a complete package, enabling faster and simpler device-to-device communications without the use of physical cables or connectors. As a result, MX60 solutions provide greater product design freedom, seamless device pairing and improved communications reliability for video displays, stylish and lightweight consumer electronics, industrial robots and equipment operating in harsh environments.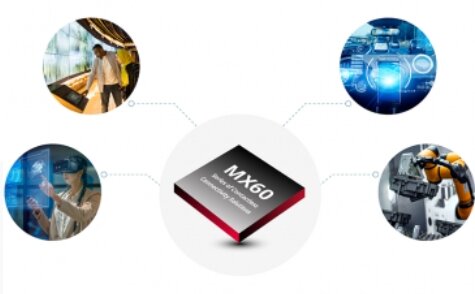 Stephen Drinan, director of wireless connectivity at Molex said: "The unique product design and development advantages enabled by our MX60 contactless connectivity solution will set the standard for future point-to-point wireless communications. Our MX60 series extends Molex's best-in-class connectivity solutions while leveraging our long-standing expertise in mmWave antenna design, signal integrity and volume manufacturing enable a new era of connectivity innovation."
Seamless Wireless Connection
The MX60 series is based on wireless chip-to-chip technology and more than 350 patent applications Molex acquired in 2021 through the purchase of core technology and intellectual property from Keyssa, a pioneer in high-speed contactless connectivity. The acquired technology operates at data rates of 1 to 5.4Gbps on the 60GHz band with no Wi-Fi or Bluetooth interference.
The first models in the MX60 series replace legacy DisplayPort, Gigabit Ethernet and USB SuperSpeed connectors to reduce development time, cost and risk. The integrated retimer optimizes signal integrity at higher data rates. Additionally, a space-saving contactless solution that provides USB2 and other low-speed interfaces is currently under development.
Walter Rivera, senior manager, wireless connectivity product manager, Molex Micro Solutions Business Unit said:"When designing smartphones, AR/VR glasses, smartwatches and other consumer devices, every bit of real estate counts. By combining USB2 and other low-speed interfaces in a contactless solution, we will provide product developers a critical head start as they do not have to worry about fitting additional components into ever-shrinking form factors."
Ideal for High-vibration Applications and Rough Environment
The MX60 Series also improves the durability of products exposed to harsh environmental conditions such as dust, moisture, and corrosion. These solutions are suitable for a variety of applications and devices, including smartphones, AR/VR glasses, tablets, autonomous vehicles, video walls, industrial robots, medical wearables and wireless docking stations.
These sealed, contactless solutions offer significant advantages over physical metal-to-metal contact, which can degrade over time and impact product performance and reliability. In contrast, Molex's contactless connection solutions are less prone to risks associated with entry and repetitive motion, including high vibration and rotating products. The ability to eliminate diagnostic ports on wireless charging devices also reduces development and production costs while improving overall product reliability.
Product Availability
Production samples are available for the following contactless connection solutions:
MX60 USB SuperSpeed – Convenient and cost-effective connectivity designed for high vibration and harsh environments including mobile devices and web applications.
MX60 Gigabit Ethernet – a powerful solution for wireless infrastructure, industrial automation, medical technology and networking applications.
MX60 DisplayPort Primary and Auxiliary Ports – A high-speed alternative to traditional DisplayPort connectors. DisplayPort Auxiliary works with other products in the MX60 series to provide a return channel for the DisplayPort interface; it can also be used as a low-speed link for less demanding applications.
Plans are underway to further expand the MX60 series by leveraging Molex's world-class millimeter wave antennas, high-speed signal integrity and volume manufacturing expertise.
For more information, please visit perceptive-ic.com.