Simple single-board computers have recently become one of the fastest growing product groups in electronics . The combination of features such as compact size, high computing performance and optimal interface options make them very popular. Compatibility with open source operating systems, especially those belonging to the Linux (including Android) or Unix (FreeBSD) families, also increases their popularity. This makes them an attractive and versatile tool for developing many different projects, not only for hobbyists but also for industrial applications . As the community dedicated to creating specialized software and accessories grew, so did the number of ideas for applying these small computers.
The Banana Pi computers show very good parameters, especially that they are available not only in the product supply, but also in TME stock.
Banana Pie Zero
BANANA-PI-ZERO is a tiny solution based on a high-performance, quad-core Allwinner H2 processor and ARM7 architecture. This computer comes pre-installed with SDRAM DDR3, 512 MB memory unit. The PCB features a versatile 40-pin GPIO socket (compatible with popular standards) with 2.54mm package leads ready for pin connector installation. The board is also equipped with a MicroSD card slot, USB OTG (On-The-Go, so the computer can be the host) slot, and a mini HDMI socket. The computer is equipped with an integrated Wi-Fi/Bluetooth communication module (to facilitate external antenna connection). The Banana Pi computer design includes the Linux operating system (including Raspbian and Ubuntu distributions) and components that natively support Android 4.4.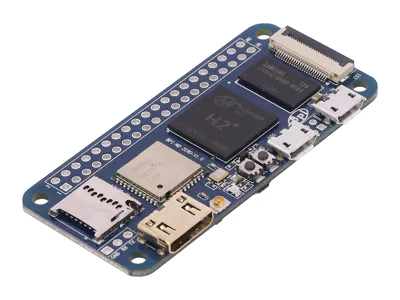 The Banana Pi Zero model can be mounted on a 60 x 30 mm PCB.
In contrast to many competing models, the Banana Pi Zero computer ships with ON and RESET buttons.
BANANA-PI-M5 is a solution that offers more advanced features. A 92 x 60 mm PCB houses an Amlogic S905X3 quad-core processor clocked at 2 GHz and powered by a Mali-G31 GPU. Additionally, the computer has integrated 16 GB of non-volatile (eMMC) memory and 4 GB of LPDDR4 RAM.
Banana Pi M5
The Sinovoip computer has four USB B 3.0 ports, and the following connectors: RJ45 (Ethernet), HDMI, microSD card slot, and 40-pin GPIO lead (supports, for example, binary signals, UART, I 2 C, and PWM output). The integrated IR receiver is an interesting addition that facilitates the development of multimedia projects.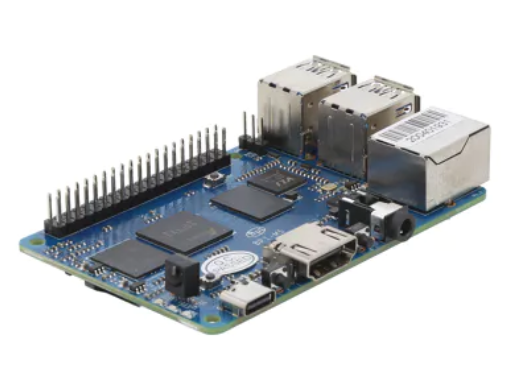 The Banana Pi mounting holes and connectors are similar to those offered in competing solutions.
The Banana Pi M5 runs on Linux (Raspbian, Ubuntu and Debian distributions) and Android 9 operating systems.
For more information, please visit the official website!