The new RA8 family of MCUs is the industry's first implementation of the Arm® Cortex®-M85 processor, enabling the new devices to deliver industry-leading 6.39 CoreMark/MHz performance. This level of performance will enable system designers to use RA MCUs in applications that previously required a microprocessor (MPU.) The new series is part of Renesas Electronics' popular Arm Cortex processor-based RA family of MCUs. Existing designs built for other RA devices can be easily ported to the new RA8 MCUs.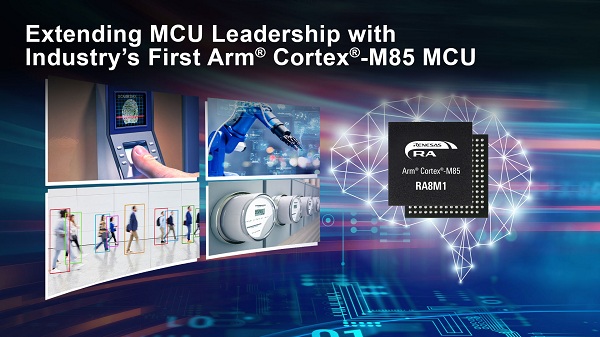 Helium Technology for Superior AI Performance
The new RA8 family of MCUs deploys Arm Helium™ technology, Arm's M-Profile vector extension, which delivers up to a 4x performance boost in digital signal processor (DSP) and machine learning (ML) implementations over Arm Cortex-M7 processor-based MCUs. This performance boost enables customers to eliminate additional DSPs from their systems for certain applications. Renesas Electronics is demonstrating the performance gains of Helium technology and introducing the first chip at Embedded World 2023. Renesas Electronics is a leader in edge and endpoint AI, offering a wide range of embedded AI and TinyML solutions for advanced applications in automotive, industrial and commercial products based on its Reality AI tools and extensive embedded processing and IoT product portfolio. The new RA8 family of MCUs enables edge and endpoint devices to implement natural language processing in speech AI and predictive maintenance applications and accelerate neural network processing using Helium.
"We are proud of the new RA8 family with the powerful Arm Cortex-M85 processor. As a global MCU leader, our customers look to Renesas Electronics to deliver leading-edge performance and functionality." said Roger Wendelken, senior vice president and head of the MCU business at Renesas Electronics. "They also depend on us to help them address new trends and technological challenges. The RA8 family sets a new benchmark for MCU performance and functionality and will simplify the implementation of AI in a wide range of new applications."
Paul Williamson, senior vice president and general manager of Arm's IoT business, said, "The emergence of AI is increasing the need for edge and endpoint intelligence to serve new applications in markets as diverse as industrial automation, smart home and healthcare." . "Built on Arm's highest-performing and most secure Cortex-M processor to date, optimised specifically for signal processing and ML workloads, Renesas Electronics' new MCUs are game-changing for innovators seeking to address the growing AI opportunity in the embedded and IoT spaces without compromising security."
Leading Security Features
In addition to leading performance, the RA8 Series MCUs offer advanced, leading-edge security. The Cortex-M85 core includes Arm TrustZone® technology for isolation and secure/non-secure partitioning of memory, peripherals, and code. The RA8 Series MCUs introduce state-of-the-art Renesas Secure IP (RSIP-E51A), which delivers leading-edge cryptographic accelerators and supports true secure boot. Other advanced security features include immutable storage for a strong hardware root of trust, octal SPI with dynamic decryption (DOTF), secure authenticated debugging, secure factory programming and tamper protection. The Armv8.1-M architecture introduces Pointer Authentication and Branch Target Identification (PACBTI) security extensions to mitigate software attacks against memory security breaches and memory corruption. the RA8 family also addresses PSA Certified Level 2 + Secure Element (SE), NIST CAVP and FIPS 140-3 certifications. FIPS 140-3 certifications.
Low Power Features
The RA8 family of devices integrates new low-power features and multiple low-power modes to improve power efficiency while delivering industry-leading performance. The combination of low-power modes, independent power domains, lower voltage ranges, fast wake-up times, and low typical activity and standby currents reduce overall system power consumption and enable customers to meet regulatory requirements. The new Arm Cortex-M85 core also performs a variety of DSP/ML tasks at much lower power consumption.
RA8M1 Group Already in Shipment
Renesas Electronics has begun volume shipments of the RA8M1 series, the first device in the RA8 family. RA8M1 Group MCUs are general-purpose devices that address a wide range of compute-intensive applications in industrial automation, home appliances, smart home, consumer, building/home automation, medical and artificial intelligence applications like fingerprint scanners, thermostats, PLCs, smart meters and home hubs.
Key Features of the RA8M1 Series MCUs
Core: 480 MHz Arm Cortex-M85 with Helium and TrustZone
Memory: Integrated 2MB/1MB Flash and 1MB SRAM (including TCM, 512KB ECC protection)
Peripherals: xSPI-compliant eight-way SPI with XIP and Dynamic Decryption (DOTF), CAN-FD, Ethernet, USBFS/HS, 16-bit camera interface, I3C and more
Advanced Security: leading encryption algorithms, TrustZone, immutable storage, anti-tamper with DPA/SPA attack protection, secure debugging, secure factory programming and lifecycle management support
Packages: 100/144/176 LQFP, 224 BGA
The new RA8M1 Group MCUs are supported by the Renesas Electronics Flexible Software Package (FSP), which accelerates application development by providing all the infrastructure software required, including multiple RTOSes, BSPs, peripheral drivers, middleware, connectivity, networking, and security stacks, as well as reference software for building complex AI, motor control, and cloud solutions. It allows customers to integrate their own legacy code and RTOS choices with the FSP to provide full flexibility for application development. Using the FSP will make it easy to migrate existing designs to the new RA8 family of devices.
More information about Renesas' electronic component products can be found at: https://www.perceptive-ic.com/supplier/Renesas-Electronics-America-Inc