ROHM has developed dual MOSFETs that integrate two 100V chips in a single package, making them ideal for fan motor drives used in communication base stations and industrial equipment. Five new models have been added to the HP8KEx/HT8KEx (Nch+Nch) and HP8MEx (Nch+Pch) series.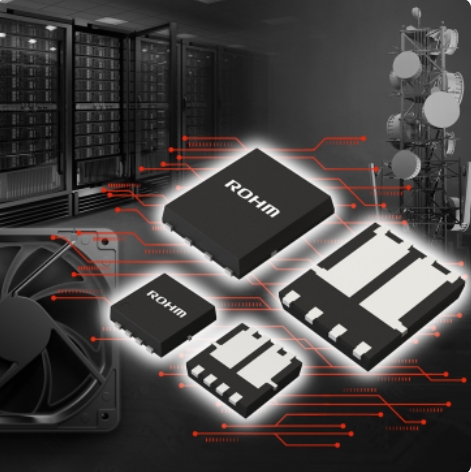 In recent years, the voltage in communication base stations and industrial equipment has transitioned from conventional 12V/24V systems to 48V systems, aiming for higher efficiency by reducing current values. In these cases, switching MOSFETs require a 100V withstand voltage to cope with voltage fluctuations, as fan motors also use a 48V supply to cool these applications. However, increasing the breakdown voltage increases the on-resistance (RDS(on)), which is a trade-off, leading to a decrease in efficiency, making it difficult to achieve both a lower RDS(on) and a higher breakdown voltage. In addition, unlike the multiple independent drive MOSFETs typically applied to fan motors, dual MOSFETs that integrate two chips in a single package are increasingly being used to save space.
For this reason, ROHM has developed two new series - the HP8KEx/HT8KEx (Nch+Nch) and HP8MEx (Nch+Pch) - that combine Nch and Pch MOSFET chips using the latest processes. Both series utilize a new back-side heat sink package with excellent thermal characteristics to achieve the industry's lowest RDS(on). As a result, RDS(on) is reduced by up to 56% compared to standard dual MOSFETs (19.6mΩ for HSOP8 and 57.0mΩ for HSMT8 Nch+Nch), significantly reducing setup power consumption. At the same time, combining two chips in one package can save more space by significantly reducing area. For example, replacing two single-chip TO-252 MOSFETs with one HSOP8 reduces the footprint by 77%.
Next, ROHM will continue to expand its lineup of dual MOSFETs to withstand the ideal voltages for industrial equipment while developing low-noise models. This is expected to address social issues such as environmental conservation by saving space and reducing power consumption in various applications.
Product Lineup
Dual Nch+Nch MOSFETs
Dual Nch+Pch MOSFETs
*40V, 60V, 80V, and 150V products will be made available to the product lineup.
Application Examples
Fan motors for communication base stations
Fan motors for industrial automation and other industrial equipment
Fan motors for data center servers, etc.
Optimized Motor Drive Solutions in Combination with Pre-driver ICs
By combining these products with ROHM's market-proven single-phase/three-phase brushless motor pre-driver ICs, it is possible to consider smaller motors with lower power consumption and quieter drives. By providing comprehensive support for peripheral circuit design that combines the dual MOSFET series with pre-driver ICs, ROHM can provide optimal motor drive solutions that meet customer needs.
For more information, please visit perceptive-ic.com.