In recent years, with the popularity of extreme sports and and outdoor adventure activities, more and more people are looking forward to capturing the exciting moments of these activities. Sports cameras, with their compact size, excellent waterproof performance and powerful camera functions, have become the preferred shooting tool for outdoor activity enthusiasts, extreme sportsmen and even ordinary consumers. It not only provides people with the opportunity to record special moments in life, but also represents the lifestyle and values of an era. Behind this is the great push of technology. HD image quality, strong stability and long battery life have all made sports cameras popular among users in a short time.

Unlocking a new battery-powered photography experience
Leveraging its accumulation of power technologies and insights into the sports camera market, the new generation of battery-powered technologies introduced by Renesas features low power consumption, fast startup and quick decision-making.
Low Power Consumption
With the exception of the always-on motion sensors and MCU, the system will remain completely off when not needed, which greatly reduces power consumption. The system is only activated when motion is detected in the camera's field of view. This strategy is designed to reduce unnecessary battery consumption, allowing the camera to provide users with the functionality they need at critical moments.
Fast Startup
When the camera detects motion, the system is able to capture the first good image within 500 milliseconds. And the Linux system boots in as little as 3 seconds. This is a 90 percent reduction in overall boot time compared to a conventional Linux system boot time of 30 seconds. For users, this means they can capture important moments quickly.
Fast Decision Making
Once the system has booted, in a fraction of the time, the camera can start analysing the captured images and making decisions. The DRP-AI hardware accelerator used in the system allows for fast, low-power object detection and classification in a very short period of time.
These features and benefits could not have been achieved without the support of a range of powerful hardware and software from Renesas. At the heart of this battery-powered camera system is the RZ/V2L MPU, which is equipped with a Cortex®-A55 (1.2 GHz) CPU and an inbuilt AI accelerator, "DRP-AI", to provide better machine vision processing performance - a Renesas Electronics innovation. This is an original technology from Renesas Electronics. It is also equipped with a 16-bit DDR3L/DDR4 interface, a 3D graphics engine with built-in Arm Mali-G31 and a video codec (H.264).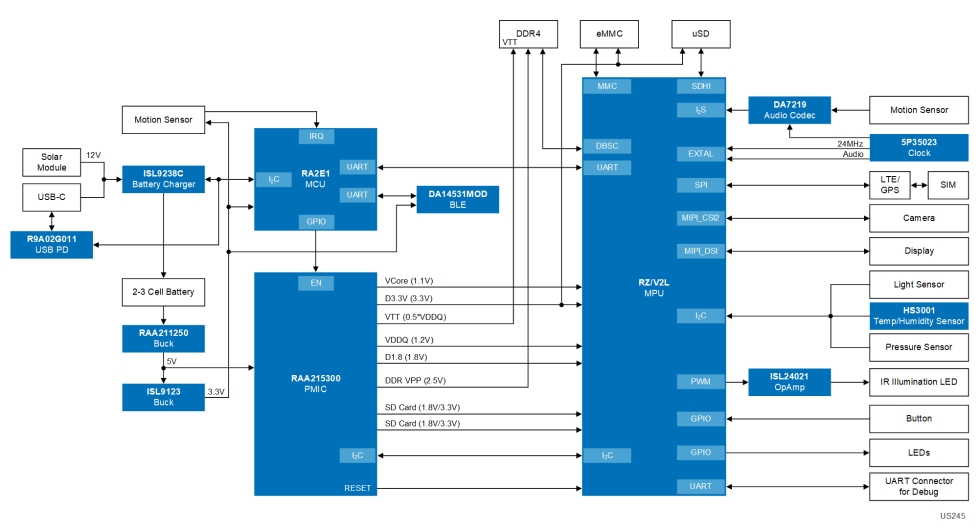 Battery Powered Camera System Block Diagram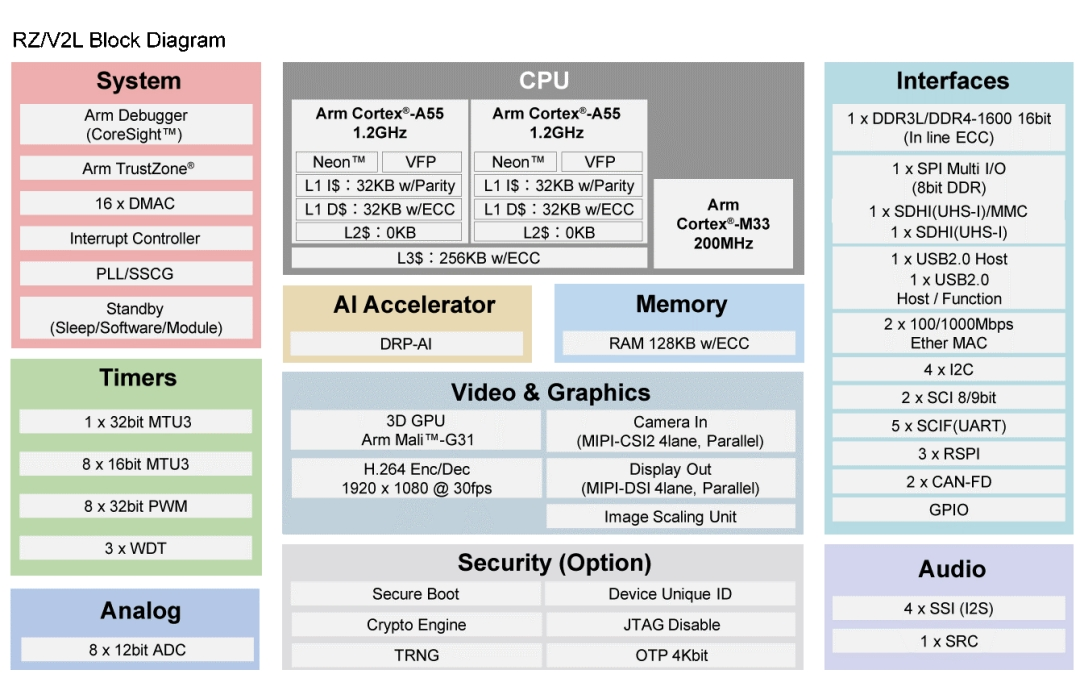 R2/V2L Module Block Diagram
In addition to this, the battery-powered camera system has a built-in DA7219 audio codec with advanced accessory detection. A SmartBond TINY™ Bluetooth low energy module, model DA14531MOD, is also integrated to provide wireless connectivity for devices. For power management, the system employs the ISL9123 step-down regulator with ultra-low quiescent current, which features a bypass function, while the RAA211250 provides the system with an integrated 30V, 5A synchronous step-down regulator, which is equipped with internal compensation and a programmable frequency function to ensure stable power supply and high energy efficiency for the camera.
Based on these advantages and features, this motion camera solution is well suited for off-road/adventure and sports cameras, not only that, but its advanced AI and responsiveness make it ideal for battery-powered surveillance systems.
Perceptive Components Limited offers the widest selection of electronic components.