Renesas Electronics has announced a new product, expanding its lineup of inductive position sensor (IPS) ICs as motor angle sensors that require high-precision control. The correct position is sensed immediately upon activation with a propagation delay of less than 2 µs. In addition, the IPS as an industrial device can now support a maximum rotation speed of 600krpm (electrical angle). It outperforms magnet-based position sensors and is ideal for fast-rotating motors in robotics, industrial equipment, medical equipment, and more. In addition, newly developed dual-coil sensor technology allows a single IC to process signals from two receiving coils, greatly increasing design freedom. We are shipping limited samples of our new position sensor IC.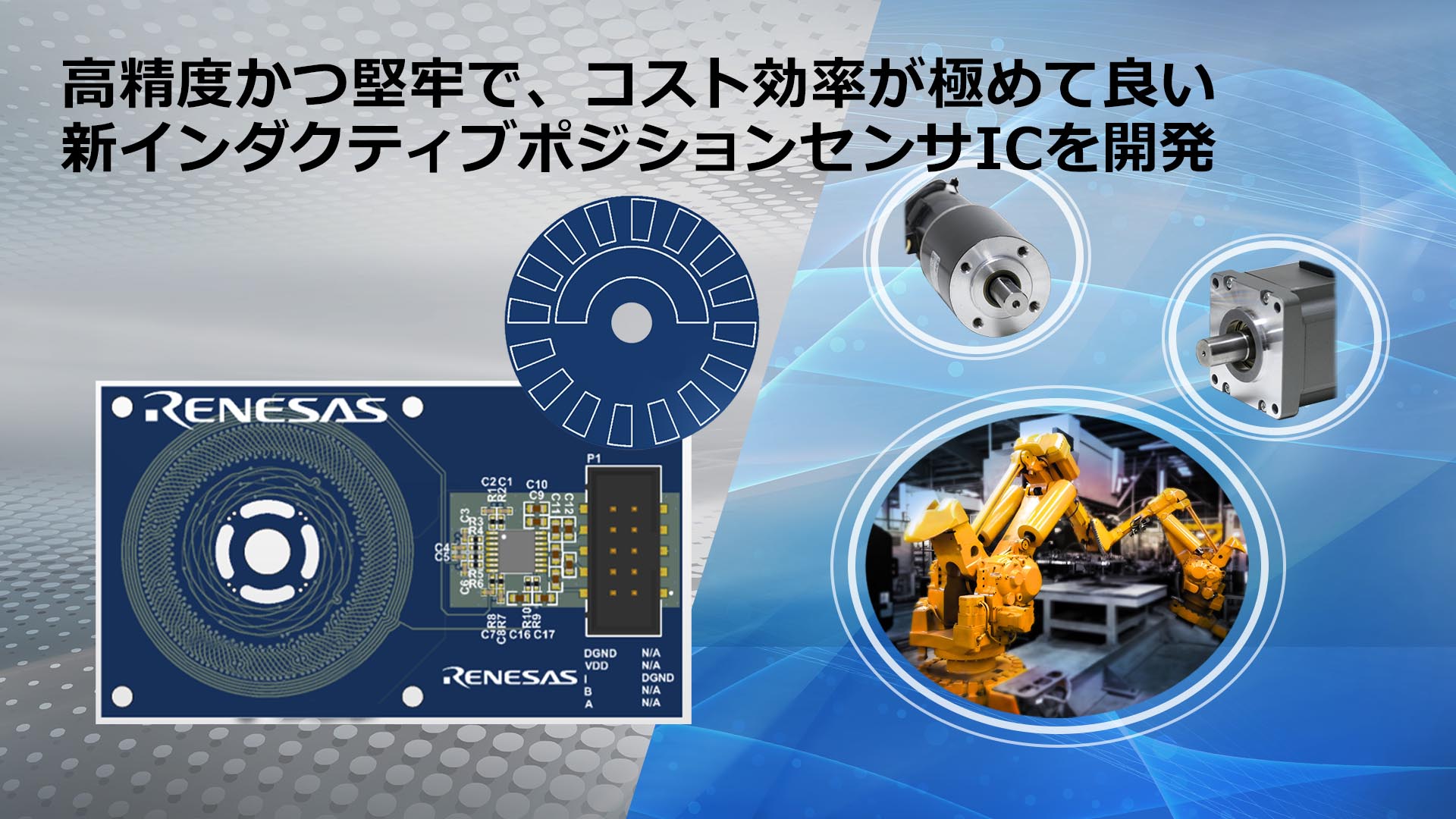 Inductive position sensor ICs are capable of high-precision position detection, are less affected by noise and vibration, and have high resistance to surrounding magnetic fields because they do not use magnets. Since a coil pattern arranged on a printed circuit board is used as a sensing element, design flexibility is high, and a thin and light design can be achieved. In general, it provides a robust, cost-effective alternative to expensive magnetic and optical encoders currently used in motor control systems that require absolute position sensing, high speed, high accuracy and high reliability.
Renesas Electronics' proprietary IPS technology uses a sensing element consisting of a copper coil etched on a printed circuit board (PCB) to detect the position of a metal target. In addition, the sensor technology supports automatic calibration and linearization functions to ensure consistent performance throughout the motor's service life.
Newly developed dual-coil sensor technology enables the construction of sensors with vernier scales, supporting up to 19-bit resolution and up to 14-bit accuracy, making it better than similar products on the market. They are also rugged and able to operate reliably in harsh environments exposed to heat, dust, moisture, vibration and electromagnetic interference (EMI). IPS are less susceptible to stray magnetic fields, require no maintenance, and are less error-prone than magnetic sensors. These advantages make IPS a more attractive option than traditional magnetic and optical encoders, which are bulky and expensive.
said Jan Leuckfeld, senior director of HPC Analog (Sensors) Division at Renesas Electronics. "Our inductive position sensor technology is a major breakthrough innovation in the field of motor position sensors. This technology allows us to provide innovative motor position sensor ICs for industrial applications that are robust, accurate and cost-effective."
Ulrich Marl, key account manager at Renesas Electronics customer Lenord+Bauer, a leading manufacturer of encoders for industrial systems, said: "Position sensors on the factory floor must be able to withstand harsh conditions such as high humidity, temperature and vibration. Through cooperation with Renesas Electronics , we have integrated IPS-based technology into our encoder portfolio to deliver high performance. We are now able to reduce downtime for critical applications while ensuring reliability and high security."
The new IPS supports the widely used UART, ABI and I2C communication interfaces, ensuring seamless integration into industrial networks and facilitating real-time monitoring and data. Analysis In addition, this new sensor technology is supported by a comprehensive tool chain, including dedicated software for user customization and accuracy optimization. Renesas Electronics plans to combine this new sensor with many compatible devices across its portfolio to provide a broad range of winning combinations. These winning combinations work seamlessly together to deliver optimal designs with low risk and reduced time to market. 
Main features of the new inductive position sensor
Speed: 600krpm (electrical angle)
Resolution: up to 19 bits
Precision: up to 14 bits
Digital interface: UART, ABI, I2C
Wide ambient temperature range: -40°C to +160°C
Two supply voltage ranges: 3.3V ±10% or 5.0V ±10%
Overvoltage, reverse polarity and short circuit protection: ±18V on both supply and output pins
Coil design allows adaptation to any full size angular range
For more sensors, please visit : https://www.perceptive-ic.com/