With its distortion suppression features and multiple modes, the STNRG012 enables designers to deliver smaller PCBs, reduce cost, and increase efficiency and robustness. Additionally, the device can instantly switch from AC to DC power, which means it can run on battery backup. Engineers can grab the EVL012LED Quick Start and experiment with a 200 W LED system.
Advantages of digital devices,Familiar and Flexible Framework
STNRG012 is a replacement for STNRG011. They have many of the same features, but older models only support the AC input line. So it's easy for someone with STNRG011 experience to work on STNRG012. One reason behind its popularity is the need for a numerical method that provides greater granularity. Instead of dealing with complex combinations of analog components, developers load code into the device's non-volatile memory (NVM). Communication takes place using a two-pin UART interface and allows the team to define various PFC and LLC parameters, among other things. --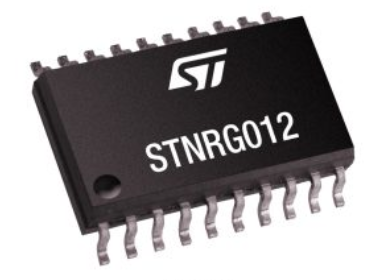 New THD optimizer
Developers can enable, disable and configure algorithms using NVM. The STNRG011 and STNRG012 use conventional constant on-time (COT) and enhanced constant on-time (ECOT) algorithms to control power factor correction to help improve efficiency. They also provide ramped ECOT (RECOT), which helps reduce EMI filters. The STNRG012 provides a new algorithm for optimizing total harmonic distortion, especially useful in lighting applications. The THD optimizer adjusts the thresholds according to the phase of AC and PFC modes, better tailoring performance and improving efficiency.
Dealing with the Reality of Lighting Applications, new architecture
The controller's multimodal approach is designed to aid engineers seeking to consolidate functionality. Teams don't need two devices, just one STNRGxxx component. With the STNRG012, designers can now handle lighting systems more efficiently thanks to its updated architecture. For example, STNRG011 has X capacitor discharge function. In short, the system discharges the capacitor when the plug is removed from the power source. However, this is not necessary for lighting systems. Also, by removing this feature from the STNRG012, it is ensured that the device can quickly switch from the AC input line to the DC input line. Thus, STNRG012 exhibits the same integration work found in STNRG011, adapting its architecture for the new system.
Detailed development environment
Non-volatile memory opens the door to many customizable options, and it is critical to provide an intuitive way to access and configure various options. ST has released a Graphical User Interface for the STNRG012, STSW-STNRG012GUI. In addition to opening NVM parameters, it also provides calibration functions and logs of various faults and events. The GUI uses the EVL012LED demo board and the STEVAL-PCC020V2 interface board . Thus, the entire stack provides a way to quickly create proofs of concept, test features, prototypes, and more. 

EVL012LED

Backside of EVL012LED with STNRG highlighted in red
For more information, please visit the official website!